People / Gernot Patzelt
Lecturer/s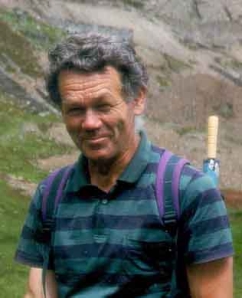 Gernot Patzelt
Gernot Patzelt
Gernot Patzelt (born in 1939) retired from academic life in 2004. This enables him to devote all his time to his areas of special interest, glaciology and climate history. Having enrolled in a broad assortment of courses, he graduated in geography and metereology with a thesis on glacial issues. He remained at Innsbruck University, from 1992 to his retirement as Professor of High Altitude Mountain Research and as head of the eponymous institute, which is linked to the Alpine Research Station at Obgurgl. This was an ideal place for Patzelt to combine research and teaching in a course system for many years.
Expeditions and travels have led him to Afghanistan's Pamir mountain range, to the Himalayas (seven times), to Mt Kenya, and Antarctica (five times), every time in the context of glaciological or cartographical research projects. The cooperation with international researchers has made a siginificant contribution of our understanding of the globe's climate and its changes.
Gernot Patzelt is a member of the Deutsche Akademie der Naturforscher Leopoldina in Halle and a Corresponding Member of the Akademie der Wissenschaften in Vienna.